Directions to 208 Fairways Dr., Vicksburg, MS 39183
From I20, take Exit 5A (Hwy 61 North) - coming from the East (Jackson, MS), this is the first Vicksburg exit - coming from the West, it is a left lane exit. Continue on Hwy 61 N for approximately 2.7 miles. At the third red light (the second red light is River Region Hospital), turn East (right) onto Oak Ridge Rd (Bowie Rd for GPS users with older maps). Continue on Oak Ridge Road. for approximately 1.8 miles (if you are using an older GPS, at approximately 1.5 miles, it will instruct you say to turn left from Bowie Rd onto Oak Ridge Road – this curve has been removed and there is no longer a Bowie Rd). Turn East (right) at the First Openwood Plantation Subdivision sign, onto Newit Vick Drive. Continue on Newit Vick Drive for 0.3 miles. You will come to a 4-way stop sign. To stay on Newit Vick Drive, you can turn either left or right. Newit Vick makes a large circle, and you want to go to the back of the circle – the distance either way is approximately the same. Turn either left or right, onto Newit Vick Drive and go approximately 1.1 miles. Turn East onto Fairways Drive. Continue on Fairways Drive for approximately 0.4 miles. You should be at what was once a cul-de-sac; the road now continues. 208 Fairways is on the South (right) side of the old cul-de-sac. The number 208 is on the front of the mail box. My laboratory, with 1800 Sq. ft of heated and cooled floor space, is directly behind my home. Approaching the house, you can not see the lab. The side of house past 208 Fairways Drive faces the street. If you past this house, you have gone too far on Fairways Drive..
---
For Maximum Resolution, Click on the Body of the Picture.
---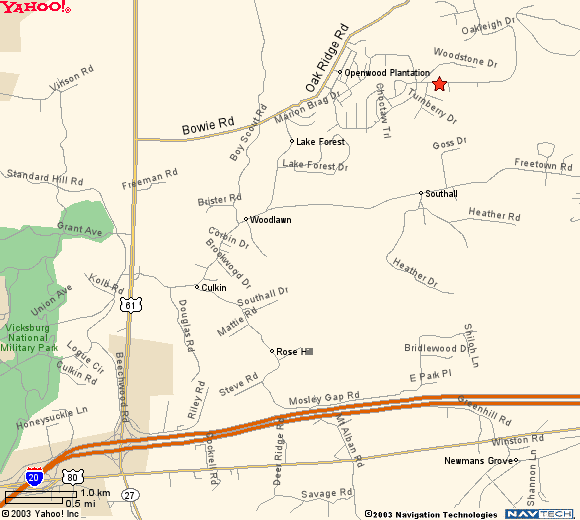 ---