Service Entrance & Meterbase
© 2005 Dr. Ray Franco, PhD., PE r.a.franco@ieee.org
---
Electrical Safety
Case History: The origin and cause investigator requested that the utility meter be removed, but the power company only replaced the meter with another one. The technique used at this meterbase is common for commerical locations that use three-phase power. Current Transfomers (CT's) are clamped around the power conductors, and the output of the current transformers go to the utility meter. Thus, removing the meter will not remove power to the home. The principle is the same as a clamp-on amp meter that clamps around a conductor.
For Maximum Resolution, Click on the Body of the Picture.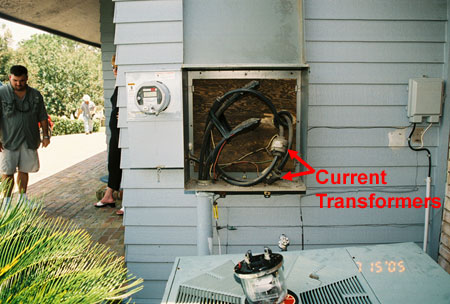 This Electrical Service Uses Current Transfomer to Measure the Power. Removing the Meter Will Not Remove Power to the Home (F05-17).
---
Case History: This was a commercial building approximately 2,400 square feet. Over the weekend, a water leak occurred in an upstairs bathroom. The restoration company, which was hired by the insurance company, placed 48 fans and 6 dehumidifiers inside the building. With all of the fans in their lowest setting, the added load was 147 amps. This stressed the connections in the meterbase, and two days later one of the lugs in the meterbase failed as a result of resistive heating and surface arcing.
For Maximum Resolution, Click on the Body of the Picture.
---