Electrical Receptacles/Outlets
© 2011 Dr. Ray Franco, PhD., PE r.a.franco@ieee.org
---
---
Anatomy of a Residential 15-Amp Duplex Receptacle
For Maximum Resolution, Click on the Body of the Picture.
It is not necessary for a receptacle to have something plugged into it for it to cause a fire. The reason that there are two screw terminals on each bus is so that power can be supply to another receptacle or device. Hence, electrical current may be passing through the receptacle even though it has nothing plugged into it.
Stab-in / Push-in connections were common in the 1970's and 1980's. In 1996, UL Standard 498 was revised to only permit stab-in (push-in) connections with solid copper conductors that were size AWG #14. The manufactures reduced the size of the holes so that AWG #12 wire would not fit. AWG #12 wire is thicker and more stiff than AWG #14 wire. When the receptacle was pushed into the outlet box, too much pressure was being inserted on the spring metal gripper, and this was causing loose connections.
On duplex receptacles, there is a break tap between the screws terminals on both the "hot" and neutral buses. This allows the duplex receptacle to be spilt into two receptacles. A common use for this is to control one of the receptacles from a wall switch that turns on a table lamp.
---
Case History - F10-051: Loose Screw Connection
For Maximum Resolution, Click on the Body of the Picture.
---
Mobile Home Receptacles
The National Electrical Code, Section 300.14, allows for integral enclosure receptacles with brackets that secure the receptacle to the wall. They do not require a separate receptacle box. The wire connections are made by jaws that accept multiple wires and displace the wire insulation. Only the sheath or outer jacket must be stripped from the cable. The receptacles are designed to be used only with nonmetallic (type NM) sheathed cables (Romex). These are primarily used in mobile homes and manufactured building.
For Maximum Resolution, Click on the Body of the Picture.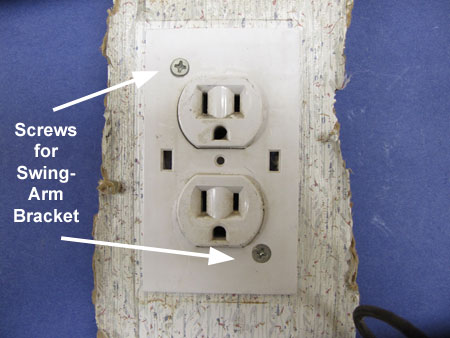 Some Integral Enclosure Receptacles have an Underlying Small Faceplate and an Outer Faceplate that hides the Swing-Arm Screws.
---